18 minutes film made with Ukrainians in Ukraine and Coventry for International Changemakers during UK City of Culture 2021/2022
'Protected Existence' film is available to watch on request
A film made and produced for International Changemakers (awarded 2019) completed in May 2022. Part of the Coventry 2021 UK City of Culture Trust programme and funded by the International Changemakers Bursary in partnership with the British Council. The 20 Changemakers received funding to travel to countries around the world to uncover connections, develop ideas and create lasting cultural exchanges. My proposal in July 2019 to travel to Ukraine (later advised not to travel in February 2022) to establish a connection with a country affected by war further exploring Coventry's role as a City of Peace and Reconciliation. This film demonstrates the importance of preserving Ukrainian embroidery traditions, the conflict endured by the totalitarian and communist state has made Ukrainians realise folklore keeps them closer to their heritage and ethnic identity. Embroidery is a significant symbol of hope, connection, and protection, the national Ukrainian textile art. Funded by the British Council, Coventry UK City of Culture's international partner, the programme will strengthen and evolve Coventry's longstanding role as a city of collaboration and friendship. Artists had developed an understanding of contemporary art in international places.
Text from for UK City of Culture Coventry website page:
Protected Existence is a short documentary film by Sherrie Edgar created in collaboration with the Organisation of Ukrainian Women and the Coventry Ukrainian Social Club. The project, rescoped in the wake of Covid-19 and the conflict in Ukraine, focuses on the strength of Ukrainian cultural traditions, particularly the importance and symbolism of traditional embroidery cloth. The film brings together footage across generations from individuals in Coventry and Ukraine all highlighting with poignancy and importance the significance of folk embroidery as a symbol of Ukraine and its fight to keep traditions alive.  

Promotional clip of 'Protected Existence'
'Protected Existence' film stills
Screening of 'Protected Existence' film at Coventry Ukrainian Community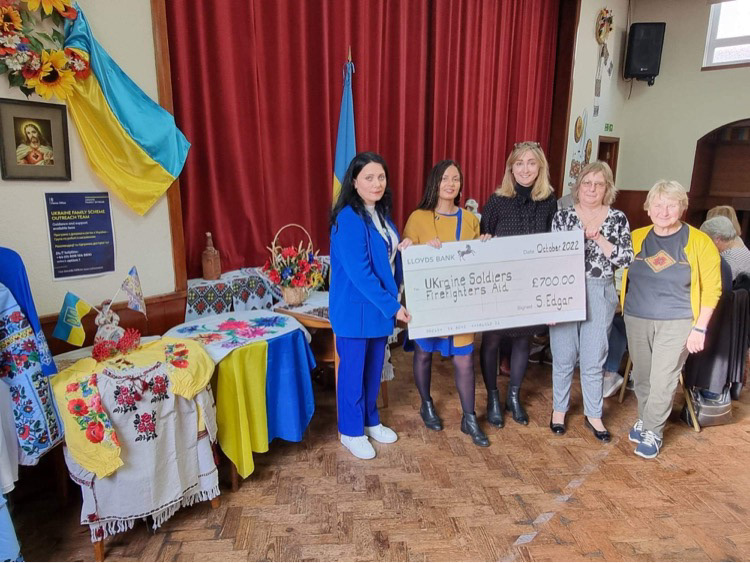 I made a personal donation of £700 to the Ukraine Soldiers Firefighters Aid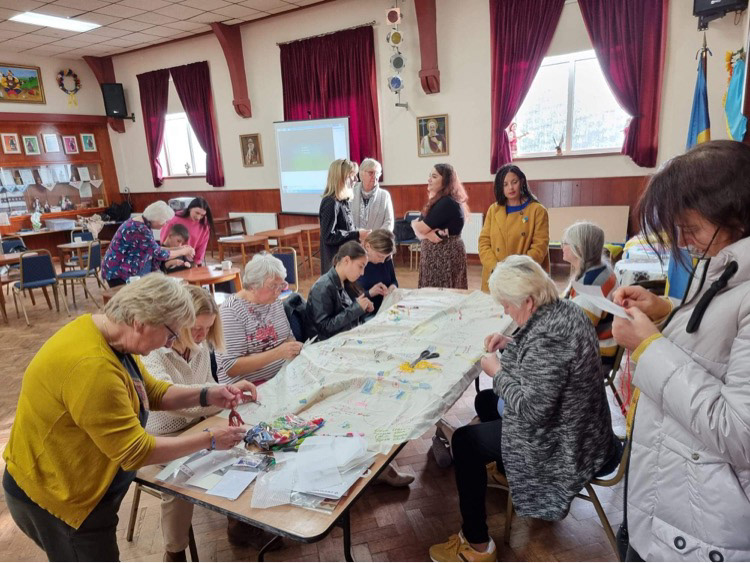 Screening 'Protected Existence' film poster
Interview at BBC CWR about 'Protected Existence' film with Lesya Kovalenko
Behind the Scene photographs taken during filming 'Protected Existence'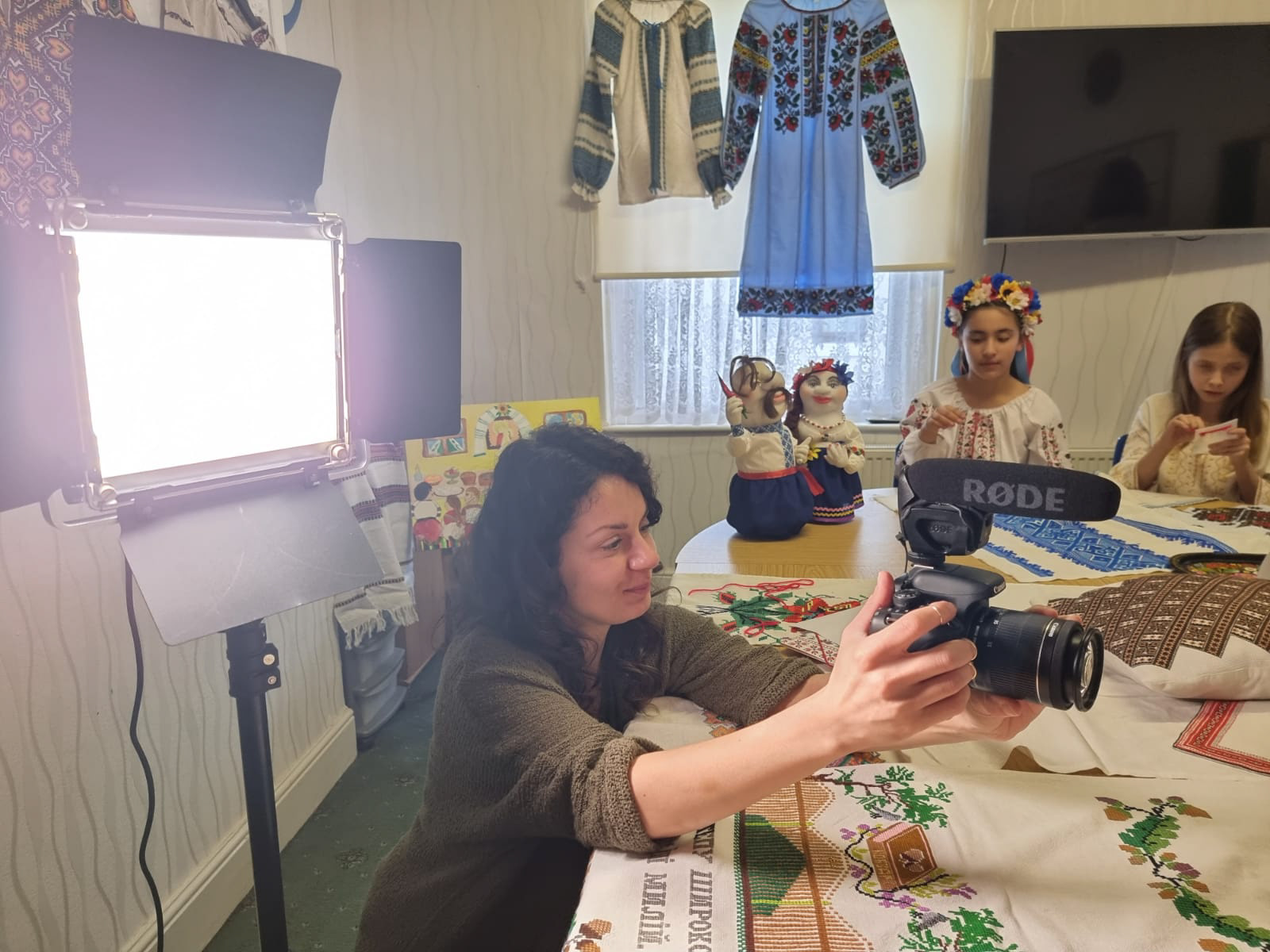 The first screening of 'Protected Existence' film at UK City of Culture Coventry International Changemakers Sharing & Celebration Event 20th May 2022 The Anglican Chapel, London Road Cemetery 
A clip of 'Protected Existence' film was shown and I discussed why I have done this film during Ukraine Solidarity Festival at Fargo Village, The Box  Coventry 30th August 2022
Credits

Camera Edit Sound Lighting
Ukraine Womens Embroidery group in Pohoril'tsi village, Khmelnytskyi region
Lesia Kovalnko and Taras Yavorskyy with children
Maria Dzula Committee member of The Ukrainian Youth Association
 Children of The Ukrainian Community School
Oksana Trushkevych with children
Oj, u luzi chervona kalyna Ukrainian patriotic march song performed by King Bayan
Ukraine Pohoril'tsi village in Khmelnytskyi region Kyiv
Coventry, England Association of Ukrainians
Iryna King Member of the Ukrainian Community, Coventry this film would not be possible without you 
The children who feature in this film
Tania Mahmoud British Council, UK
Fiona Lee Coventry University English and Languages
Alex Talbott Education and Young People Commissioner Coventry City Of Culture Trust
Stephanie Ridings Bursary Manager Coventry City of Culture Trust
Jon Davis Senior Producer (Dynamic City) Coventry City Of Culture Trust
Thank you to all the people I talked to during the film research
Damaris Giuliana, Nitin V. George Médecins Sans Frontières MSF Kyiv, Ukraine
Hanna Kazymyrova, Anna Bubnova British Council Kyiv, Ukraine
Mel Smith Grapevine Coventry and Warwickshire
Funded by
British Council
UK CIty of Culture Trust Coventry